Blueberry Girl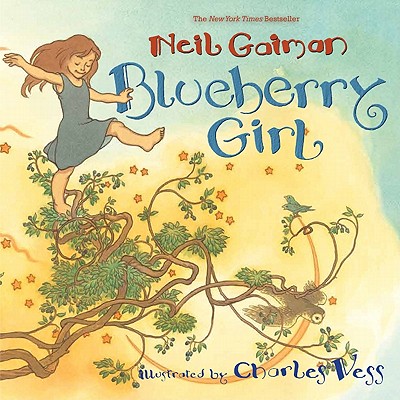 by: Neil Gaiman
Publisher: Harper (2009)
$7.99
Staff Pick by comrade: QR
I love a kids' book that shows little girls who are brave and adventurous and independent. I love it even more when it isn't about marriage or princes or any of the other hetero-normative storylines that are often still the underscore of such books. In 'Blueberry Girl', Gaiman writes a beautiful incantation for an unborn child, wishing her strength and wisdom and freedom. He is also wishing her freedom from the trappings of the stories girls have been told for generations...
'Keep her from spindles, and sleeps at sixteen. Let her stay waking and wise.' The wishes are presented as a sort of prayer to feminine ancestors, or perhaps pagan goddesses watching over the child. I think that is is an empowering book for kids and adults alike. It's bright, charming illustrations, and lilting text are compelling to kids and even some references that may be lost on little ones will speak more to the adult reader.
This is a prayer for a blueberry girl . . . A much-loved baby grows into a young woman: brave, adventurous, and lucky. Exploring, traveling, bathed in sunshine, surrounded by the wonders of the world. What every new parent or parent-to-be dreams of for her child, what every girl dreams of for herself. Let me go places that we've never been, trust and delight in her youth. Nationally bestselling author Neil Gaiman wrote Blueberry Girl for a friend who was about to become the mother of a little girl. Here, he and beloved illustrator Charles Vess turn this deeply personal wish for a new daughter into a book that celebrates the glory of growing up: a perfect gift for girls embarking on all the journeys of life, for their parents, and for everyone who loves them. Give her all these and a little bit more, gifts for a blueberry girl.