Of Wolves and Men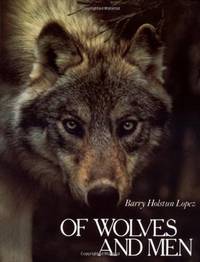 by: Barry Lopez
Publisher: Simon & Schuster (1978)
$20.00
Staff Pick by comrade:
Thoroughly researched and beautifully written, this is "nature writing" at its best. Lopez starts with wolf biology and evolution and then moves onto the influence of wolves on various human cultures as well as how different cultures have responded to living with wolves. This includes wolves in mythology and a history of the industrial slaughter of wolves by "civilized" humans. A moving reminder of the wildness and mystery that still exists in the world.
Thoroughlyresearchedandbeautifullywritten,thisis"naturewriting"atitsbest.Lopezstartswithwolfbiologyandevolutionandthenmovesontotheinfluenceofwolvesonvarioushumanculturesaswellashowdifferentcultureshaverespondedtolivingwithwolves.Thisincludeswolvesinmythologyandahistoryoftheindustrialslaughterofwolvesby"civilized"humans.Amovingreminderofthewildnessandmysterythatstillexistsintheworld.